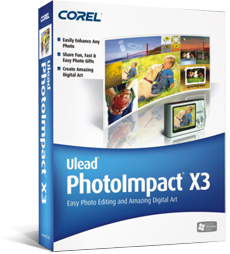 PhotoImpact X3

Easy Photo Editor
Corel® PhotoImpact® X3 combines easy-to-use photo editing tools with inspiring photo projects and digital art to make digital photography and image creativity fun, fast and easy.
PhotoImpact X3
Photo Editing Software was Never Easier
PhotoImpact X3 is packed with fun, easy photo editing projects, easy one-click photo fixes and new digital art tools that make your creative projects look their best. Quickly touch up your favorite pictures with innovative ExpressFix editing. Use customizable project templates to create memorable photo gifts in just minutes. Get creative with drawing and painting tools, and work with graphics to enhance your video productions.
Whether you're a beginner or it's your hobby, PhotoImpact X3 will help you create professional-looking graphics for slide shows, videos, DVDs and more.
Easy & Fast ExpressFix Mode
Automated photo enhancements and easy-to-understand options put the simple photo editing tools you need at your fingertips.
Instantly fix exposure, color and composition
Beginners like the simplicity, experienced users like the efficiency
Amazingly simple Digital Art
Paint realistic looking clouds with the Cloud pen
Enhance your photos with creative filters
Draw and paint like a pro
Fun Photo Projects
Use easy wizards to create fun photo projects and gifts. Choose from over 200 customizable templates for a wide range of ways to share your pictures.
Collages
Comic strips
Calendars
Greeting cards
Graphics Tools for Video Enthusiasts
If you're into creating video, you also need tools for photos and graphics:
Prepare your photos to look their best in a DVD slide show with Slideshow Prep Wizard
Design and print DVD labels and case covers that match menus in DVD MovieFactory® and VideoStudio®
Create your own completely custom DVD menus
Correct and enhance photos for maximum impact
Make every picture special with automated photo enhancements and easy-to-understand options for image editing and sharing.
Easy and Fast ExpressFix™ Mode
The unique ExpressFix panel features one-click fixes and enhancements. Easily compare changes with a large preview screen that shows Before and After views.
SmartCurves – automatically bring out details in dark areas, without overexposing the highlights
Auto White Balance Control – easily edit your images to make colors look natural under any kind of light
Reduce Noise – automatically clean up digital artifacts in photos shot in low light or at high ISO settings. Especially useful for improving cell phone pictures
Photo Project Wizard – easily create collages, comic strips, DVD labels and greeting cards
Make every picture special with automated photo enhancements and easy-to-understand options for easy photo editing and sharing.
New!

Next-generation Crop tools

PhotoImpact now offers 2 easy ways to re-compose your pictures for greater impact:
Rule of Thirds Crop – apply the classic Rule of Thirds grid for more dynamic images
Golden Ratio Crop – used throughout history by the masters, this is a timeless tool that creates a proportion that is aesthetically pleasing. It worked for the Mona Lisa, it can work for your photos, too!
SmartGuide "How-to" Help
Step-by-step directions on screen show you how to complete great-looking projects
Includes guides for basic and advanced photo editing, Web page, video and DVD menu tasks
Links take you directly to the photo editing tools you need

SmartGuide
Enhance photo details even more with advanced editing tools
PhotoImpact X3 includes a complete set of powerful tools to satisfy the demands of high-end users.
Powerful Photo Retouching
Enhance your photos using advanced darkroom tools.
Enhanced!

RAW Image File Support

Brighter previews, improved performance and a greater number of supported camera models make working with your RAW images easier than ever.
High Dynamic Range
Create professional images that capture color and detail in both shadows and highlights
Remove elements of the scene that change between shots
Enhanced with preset curves for more camera models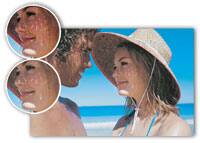 Powerful Retouching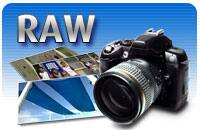 RAW File Support
Take your photos to new places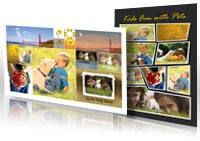 Photo Projects
New!

Photo Projects
Share your photos as greetings cards, collages, comic strips, and on CD & DVD labels
Choose from 70 customizable templates
Follow the simple and fast 3-step wizard to complete projects quickly
Create amazing digital art
Enjoy limitless creative possibilities with PhotoImpact's suite of powerful, easy-to-use photo editing software.
New & Unique!

Cloud Pen
Say goodbye to dull skies! Now you can paint natural-looking clouds or add fun effects
Choose from cumulus, cirrus and stratus cloud types
Get creative with fantasy cloud animals, skywriting or smoke signals
SPECIAL OFFER!

Corel® Painter™ Essentials 3 (full version)
A complete home art studio, for novices and experts alike
Draw or paint original artwork, or enhance your photos with paint effects
Natural-Media® watercolor and oil-paint brushes behave just like the real thing!
Automatically turn your photos of kids, travel or weddings into stunning paintings in 3 easy steps!
Creative Photographic Filters
Choose from hundreds of optical effects, textures and lighting effects to add flair to your photos.
Discover graphics tools for video enthusiasts
Make your video productions stand out by creating stunning graphics for slide shows, videos, DVDs and more.
New!

Slideshow Prep Wizard
Make sure your photos look their best in a DVD slide show
Choose from a selection of sophisticated frames, drop-shadow and color-gradient background styles
Add date/time labels and batch process
Import your photos into Corel® VideoStudio® or Corel® DVD MovieFactory® to easily create your slide show. PhotoImpact X3 is a great companion tool for these video-editing and DVD authoring applications
New!

DVD Content Sets

Present your video projects like a pro. Design and print DVD labels and case covers that match menus in DVD MovieFactory and VideoStudio.
Save Images for Video
Generate GIF & PNG images with transparency for video overlays, logos or lower-thirds.
DVD Menu Maker Plug-in
Create DVD menus for DVD MovieFactory 5 or 6, and VideoStudio 10 or 11.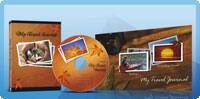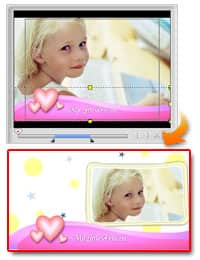 Graphics Tools for Video Enthusiasts
Frequently Asked Questions
Why should I upgrade to Corel® PhotoImpact® X3?
PhotoImpact X3 offers several new features and improvements over previous versions, including:
Enhanced ExpressFix photo editing program
New cropping and composition tools
New photo projects like comic strips, collages and greeting cards
Matched sets of graphics for video enthusiasts
2 FULL packages of bonus photo & media editing software: Corel® Painter™ Essentials 3 and Corel® MediaOne® Plus digital media management
---
What can PhotoImpact X3 do for me?
If you've ever wanted one package that does it ALL, look no further.
Digital photography – enhance your photos with photo editing tools that are incredibly easy to use yet feature professional techniques
Integrated Web tools – visually create entire Web pages containing interactive rollovers and buttons, as well as JavaScript effects, without the hassle of coding
Graphic imaging tools – explore a host of features for Web and creative design
Productivity functions – work with a number of image files simultaneously for maximum speed and ease
Composition tools – includes Rule of Thirds and Golden Ratio crop tools
Enhanced UI and updated ExpressFix – includes new straighten and crop tools
Graphic art – get creative with image-editing tools like the new Cloud Pen
Corel® Painter™ Essentials 3 – turn your photos into stunning paintings in 3 steps
Video graphics – create professional-looking graphics for slide shows, videos, DVDs and more. Includes Slideshow Prep Wizard, enhanced DVD Menu Maker, and matching DVD content for Corel® VideoStudio® and Corel® MovieFactory®.
---
What other programs can I use with PhotoImpact X3?
PhotoImpact X3 is a great companion tool for video-editing and DVD authoring applications like VideoStudio and MovieFactory. You can create compelling graphics for your movies, including DVD menus, special effects, overlay objects and eye-popping titles. PhotoImpact X3 makes it easy to achieve professional results with both your photos and videos.
---
What bonus items do I get?
PhotoImpact X3 delivers the best value for money on the market. Users and reviewers are amazed by its 1,398 royalty-free images, 2,221 Web elements, 3,270 customizable effects, 3 full applications, and wealth of features for photo editing, graphic design and Web creation. Photo Explorer has been replaced by our new photo and video organizer, Corel® MediaOne® Plus. In addition to offering simple photo and video management, this application offers an easy online backup solution from our partner, Sharpcast.
Panorama stitching (COOL 360™) is integrated right into PhotoImpact X3, and has been enhanced to allow vertical as well as horizontal panoramas.
We are also excited to be able to include a full version of Corel Painter Essentials 3. This makes it easy to convert photos into paintings using technology from the award-winning Corel® Painter™ product. There's simply nothing else like it.
---
How can I upgrade to PhotoImpact X3?
To purchase the upgrade version of this product, you must own a previous licensed version of:
PhotoImpact 12 Full/Upgrade/SE
PhotoImpact 11 Full/Upgrade/SE
PhotoImpact 10 Full/Upgrade/SE/SE Basic
You can purchase the upgrade version at a computer retail store or online from the Corel Store.
---
Do I need to uninstall PhotoImpact 12 when I upgrade?
No, you don't need to uninstall PhotoImpact 12 before installing PhotoImpact X3. The installation program will ask you to enter your serial number for PhotoImpact 12 when it is detected. The Installer will install the complete PhotoImpact X3 program.
---
How can I migrate EasyPalette, My Gallery & My Library settings and content from PhotoImpact 12 to PhotoImpact X3?
You should first export your "My Gallery" and "My Library" files from PhotoImpact 12. Then import them into the PhotoImpact X3 EasyPalette.
System Requirements
Intel® Pentium® III, AMD® Athlon™ 800 or above CPU
512 MB RAM (for Windows® XP), 1 GB RAM (for Windows Vista™)
Windows® XP Service Pack 2 Home Edition/Professional, Windows® XP Media Center Edition, Windows® XP Professional x64 Edition, Windows Vista®
750 MB available hard drive space for main program and content files
An additional 320 MB available hard drive space for bonus programs
True Color or Hi-Color display adapter with 1024x768 resolutions or higher
CD-ROM Drive
File Format Support
001, BMP, CLP, CUR, DCS, DCX, EPS, FAX, FPX, GIF, ICO, IFF, IMG, JP2, JPC, JPG, MAC, MSP, PBM, PCD, PCT, PCX, PEF, PGM, PIC, PNG, PPM, PSD, PSP, PXR, RAS, SCI, SCT, SHG, SVG (output), TGA, TIF, UFO, UFP, WBMP, WMF
Digital Device Support
Digital cameras, USB card readers, TWAIN/WIA compliant scanners
Pressure-sensitive graphics tablets
RAW Format Support
ARW, BAY, CR2, CRW, CS1, DCR, DNG, ERF, FFF, HDR, K25, KDC, MEF, MOS, MRW, NEF, ORF, PEF, PNM, RAF, RAW, SR2, SRF, STI, X3F