Watermark Photos
How To Watermark Photos
Watermarks are a logo, stamp, signature, or other message superimposed on your image with enough transparency to allow a viewer to observe the majority of the image. By watermarking your pictures you discourage creative material theft while still allowing individuals to view them. Plus, if you use a logo or other marketing device, it offers an excellent way to promote your work. Best of all, they're easy to apply in your image processing software.
1.

Install PaintShop Pro

To install PaintShop Pro photo editing software on your PC, download and run the installation file above. Continue following on-screen instructions to complete the setup process.
2.
Choose Visible Watermark
Choose Image > Watermarking > Visible Watermark. The Visible Watermark dialog box appears.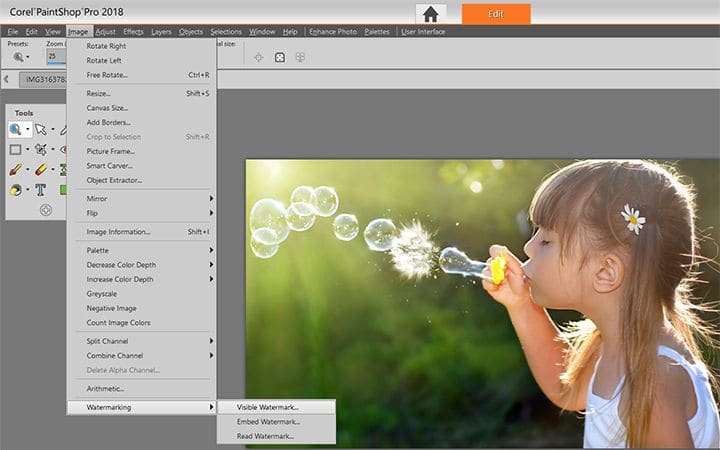 3.
Select the watermark graphic
In the Watermark Source group box, click the Browse button. Use the Open dialog box to navigate to the folder containing the graphic you want to use for the watermark. The graphic appears in the preview area of the Watermark Source group box.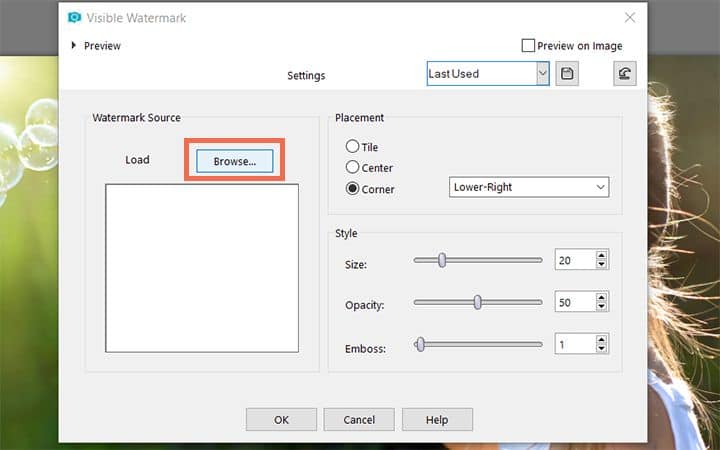 4.
Decide a placement option
In the Placement group box, choose a placement option:
Tile — places the graphic in rows and columns that cover the image
Center — places the graphic in the center of the image
Corner — lets you choose the image corner in which the graphic is placed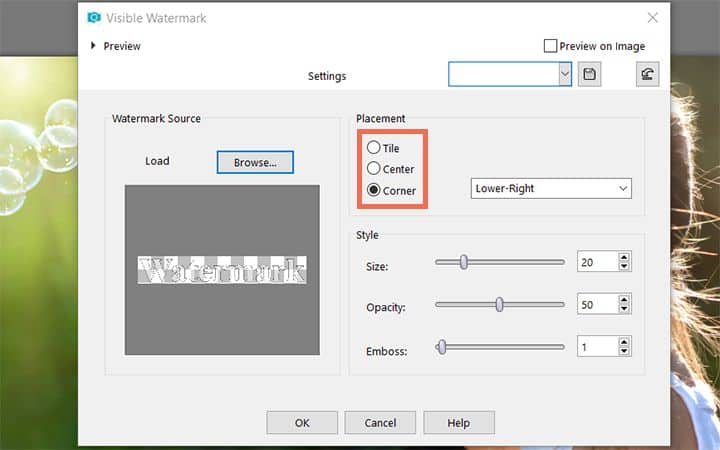 5.
Adjust the appearance
In the Style group box, adjust the overall appearance of the graphic:
Size — lets you adjust the size of the graphic
Opacity — lets you adjust the graphics opacity. Increasing the Opacity setting allows more of the underlying image to be seen through the graphic.
Emboss — applies a raised appearance to the graphic
Click OK.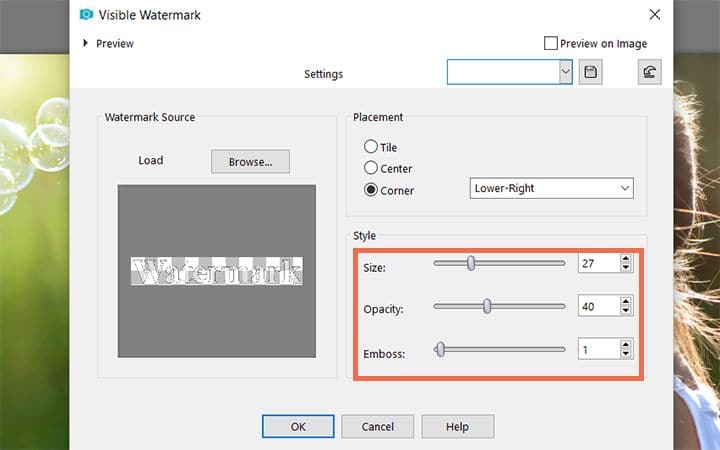 Download a free trial now and start watermarking photos today
PaintShop Pro's image editing tools allow you to quickly and easily watermark photos to protect your image and get your work recognized.
PaintShop Pro does more than just watermark photos
Check out some of the other photo editing features in Paintshop Pro, like blur a photo, blur an image background, edit image contrast, and more! Create high quality photos in a fun and easy to use photo editor and make your photos stand out more than ever.
Download the best solution for adding watermarks to photos that there is
Need to add a watermark to your photos? We promise you'll love the easy-to-use watermarking features in PaintShop Pro. Click below to download your free 30-day trial and watermark images for free before you buy!