Add Motion Blur
How To Add Motion Blur
By adding motion blur, you can give the illusion of movement to your static images. This technique is frequently used in sports or racing photography, but most disciplines can benefit from adding a little motion. Using an image processing software can let you add that action after the moment of capture. Check out the guide below to learn how to add motion blur to your images.
1.

Install PaintShop Pro

To install PaintShop Pro photo editing software on your PC, download and run the installation file above. Continue following on-screen instructions to complete the setup process.
2.
Select Motion Blur
Choose Adjust > Blur > Motion Blur. The Motion Blur dialog box appears.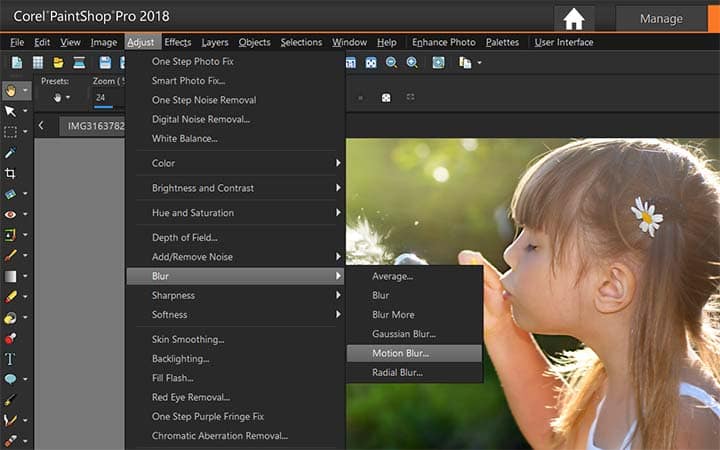 3.
Adjust Angle
In the Angle group box, drag the angle dial, or type or set a value in the control, to set an angle from which the blurring is applied.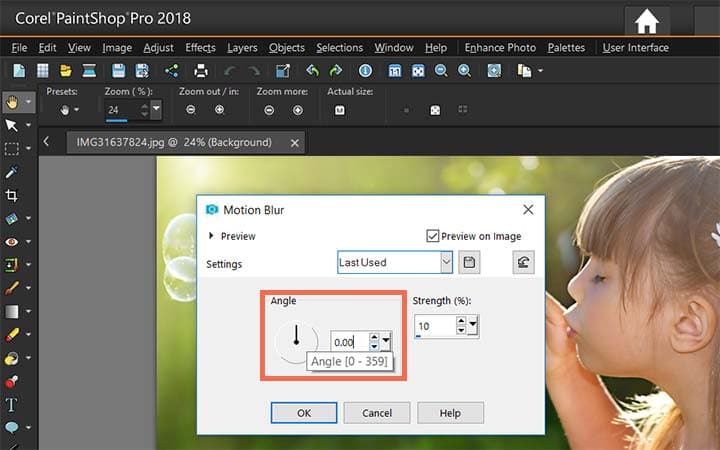 4.
Set Strength
Type or set a value in the Strength control. Values range from 1 to 100%. Lower values lessen the effect; higher values intensify the effect. Click OK.
Download a free trial now and start adding motion blur effect today
PaintShop Pro's image editing tools allow you to quickly and easily add motion blur effect to create the illusion of speed and movement in your images.
Download the best solution for adding motion blur that there is
Are you wanting to add motion blur to your image? We promise you'll love the easy-to-use motion blur features in PaintShop Pro. Click below to download your free 30-day trial and add motion blur effect for free before you buy!