Flip Photos
How To Flip Photos
When working with design, flipping an image is sometimes required. Flipping an image can strengthen the compositional structure, improve flow, or improve design creativity in general and add artistic polish. Whether you're flipping an entire picture or just a small element of it, PaintShop Pro makes the process a breeze. Keep reading the guide below to learn how to flip a photo and improve your creative with PaintShop Pro.
You can flip or mirror an image so that the left side becomes the right side or the top becomes the bottom. When you choose Flip, layers or selections are flipped in position. When you choose Mirror, layers or selections are flipped along their horizontal (left to right) or vertical (top to bottom) axis.
1.

Install PaintShop Pro

To install PaintShop Pro photo editing software on your PC, download and run the installation file above. Continue following on-screen instructions to complete the setup process.
2.
Apply Flip from Image menu
Click Image > Flip, and choose one of the following:
Flip Horizontal — the left side switches to the right side
Flip Vertical — the top switches to the bottom
Flipping a selection converts it into a floating selection, leaving the original layer unchanged.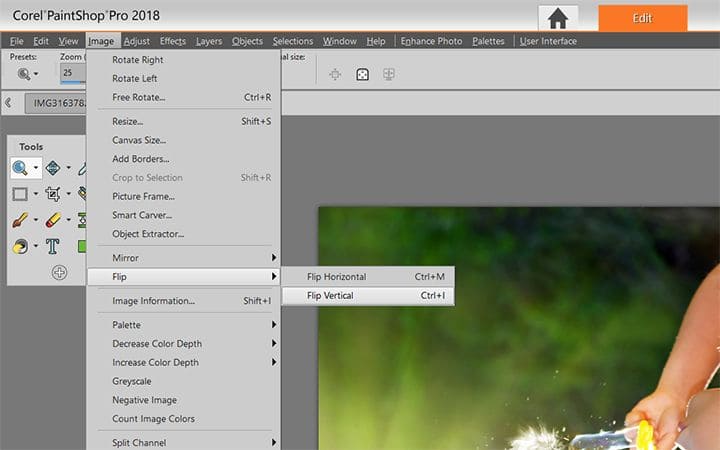 Download a free trial now and start rotating photos today
PaintShop Pro's image editing tools allow you to quickly and easily rotate a photo to make viewing easier.
PaintShop Pro does more than just rotate photos
Check out some of the other photo editing features in Paintshop Pro, like add photo effects, resize a photo, add photo filters, and more! Create high quality photos in a fun and easy to use photo editor and make your photos stand out more than ever.
Download the best solution for flipping photos that there is
Are some of your images sideways or upside down? We promise you'll love the easy-to-use flip image features in PaintShop Pro. Click below to download your free 30-day trial and rotate photos for free before you buy!