Use Photo Filters
How To Use Photo Filters
Transform a mundane image into a vibrant image by adding filter effects to your composition. Image filters alter the appearance of a photo by running a software routine that changes the colors of the pixels that make up the image. Change the mood or feel, create lighting effects, or spice up your pictures with a quick edit. Check out the guide below to learn how to use photo filters.
Whether you are a novice or an experienced photographer, you can experiment in Corel PaintShop Pro with effects that are inspired by different types of camera film and filters. You can choose from a list of preset film effects, called Film Looks, or you can choose from a list of preset filter effects, called Creative Filters. You can also combine a film effect with a filter effect to create a unique style.
1.

Install PaintShop Pro

To install PaintShop Pro photo editing software on your PC, download and run the installation file above. Continue following on-screen instructions to complete the setup process.
2.
Select Film and Filters from Photo Effects
Choose Effects > Photo Effects > Film and Filters.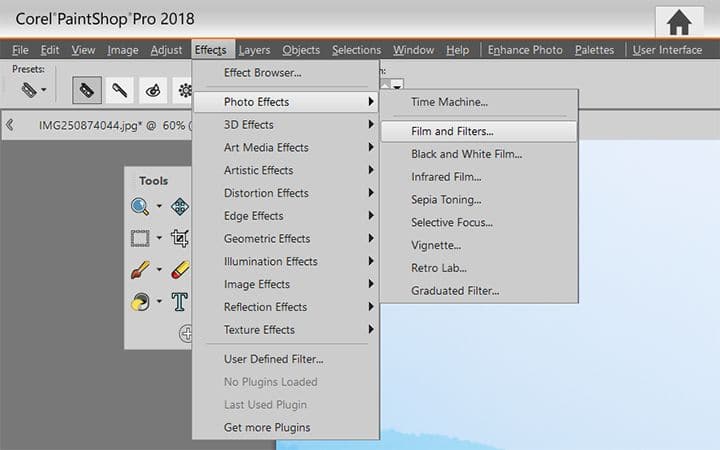 3.
Apply modifications
In the Film and Filters dialog box, perform one or more tasks from the following table, and click OK.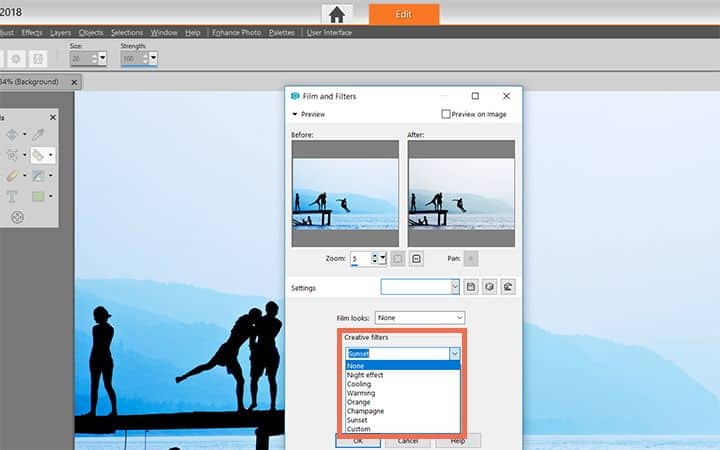 To Apply a Film Look
Choose a style from the Film looks drop-list.
To Apply a filter
Choose a filter from the Creative filters drop-list.
To Choose a custom filter color
Click the Filter color swatch, and choose a color from the Color dialog box.
Change the amount of color applied by a filter
Type a value in the Density box. Higher numbers increase the amount of color; lower numbers decrease the amount of color.
Download a free trial now and start adding photo filters today
PaintShop Pro's image editing tools allow you to quickly and easily add photo filters to brighten, darken, or add color to your images.
PaintShop Pro does more than just add photo filters
Check out some of the other photo editing features in Paintshop Pro, like edit hue & saturation, to take screenshots, fix blurry images, and more! Create high quality photos in a fun and easy to use photo editor and make your photos stand out more than ever.
Download the best solution for adding photo filters that there is
Can't afford lens filters? Or maybe you feel one of your images would look better with a cool photo filter? We promise you'll love the easy-to-use photo filters in PaintShop Pro. Click below to download your free 30-day trial and add filters to you images for free before you buy!