Resize An Image
How To Resize An Image
It's common for a creative source to be sized incorrectly for your intended application and will require you to resize the image. In a world where so much media ends up on the web, file sizes are increasingly important. By resizing your pictures, you're able to customize the final size to fit your application. The good news is: It's a breeze with image processing software.
1.

Install PaintShop Pro

To install PaintShop Pro photo editing software on your PC, download and run the installation file above. Continue following on-screen instructions to complete the setup process.
2.
Select Resize tool from Image menu
Choose Image > Resize. The Resize dialog box appears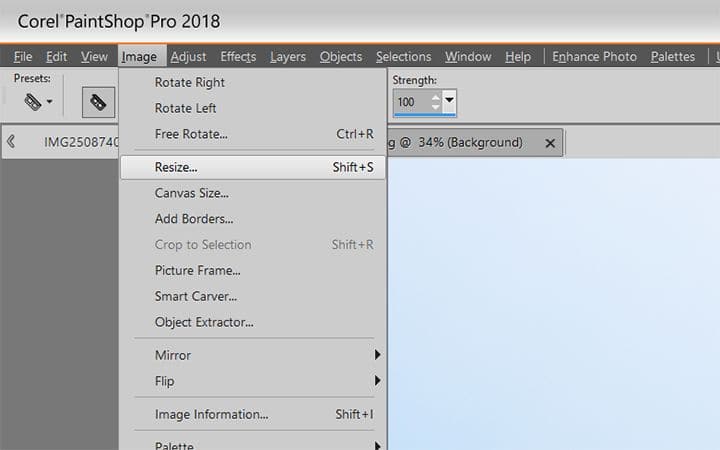 3.
Choose a resizing option
Choose one of the following resizing options:
By Pixels — lets you specify a size in pixels by typing values in the Width and Height boxes. You can also choose from a drop-list of standard sizes.
By Percentage — lets you change the size by a percentage (of the original) by typing a percentage into the Width or Height box.
By Print Size —lets you specify a size in inches, centimeters, or millimeters by typing values in the Width and Height boxes. You can also choose from a drop-list of standard sizes and set the Resolution value.
Based on One Side —based on pixels, you can specify the size of either the Width or Height and the image will be resized, using the current proportions.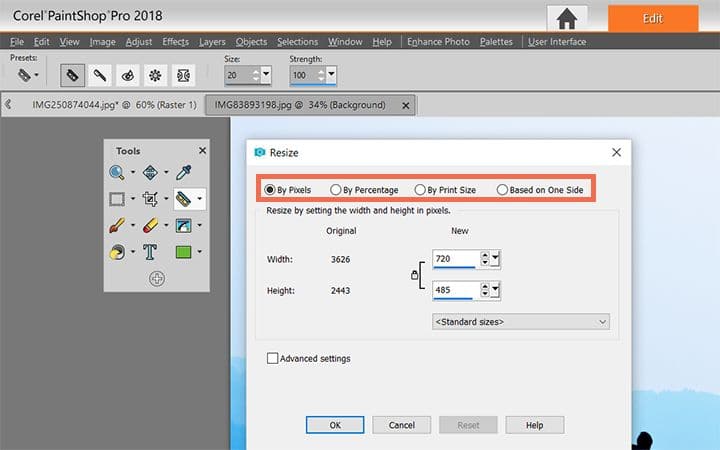 4.
Adjust Advanced settings
For further adjustments, mark the Advanced settings check box, and adjust any of the following.
Download a free trial now and start resizing photos today
PaintShop Pro's image editing tools allow you to quickly and easily resize a photo for uploading, sharing, or printing.
PaintShop Pro does more than just resize photos
Check out some of the other photo editing features in Paintshop Pro, like add photo filters, edit hue & saturation, to take screenshots, and more! Create high quality photos in a fun and easy to use photo editor and make your photos stand out more than ever.
Download the best solution for resizing photos that there is
Need to resize you images? Maybe you are putting them on the web, or printing them? We promise you'll love the easy-to-use image resizing features in PaintShop Pro. Click below to download your free 30-day trial and resize photos for free before you buy!