Take A Screenshot
How To Take A Screenshot
Screenshots allow you to capture an image of a portion or the entirety of your screen. Once obtained, you may utilize it in a myriad of ways: provide creative feedback, archive technical issues, communicate a business example, demonstrate a specific function for a tutorial, demonstrate a product, share a snippet of a conversation, or anything else you can think of - the list is endless. Start with PaintShop Pro and learn how to take screenshots yourself.
1.

Install PaintShop Pro

To install PaintShop Pro photo editing software on your PC, download and run the installation file above. Continue following on-screen instructions to complete the setup process.
2.
Select Screenshot Setup
Choose File > Screenshot > Setup.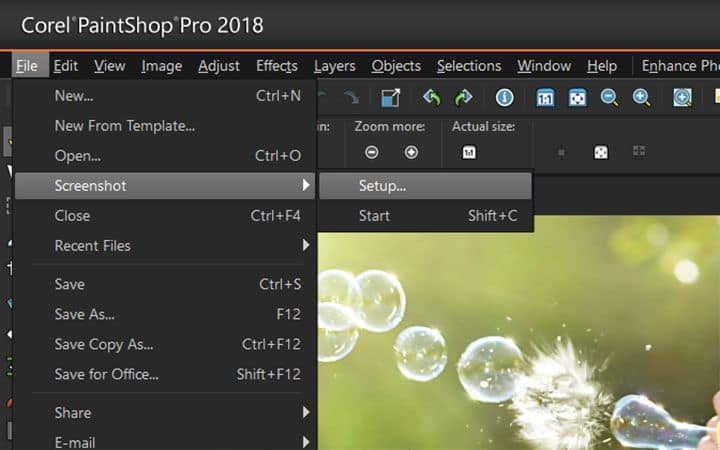 3.
Choose a Method
In the Method drop-list, choose one of the following options:
Smart Capture — captures an object by auto-detecting screen elements (buttons, menus, window areas) as you hover over the elements with the pointer
Area — captures the area of the screen that you select
Full screen — captures the entire screen
Client Window — captures the contents of the active program
Window — captures the active window
Object — captures an object within the program that you select, such as a menu bar, toolbar, icon, or document window
Preset — captures preset area size. When you choose this option, you can select a category from the Category drop-list, and select the preset size you want from the Preset drop-list.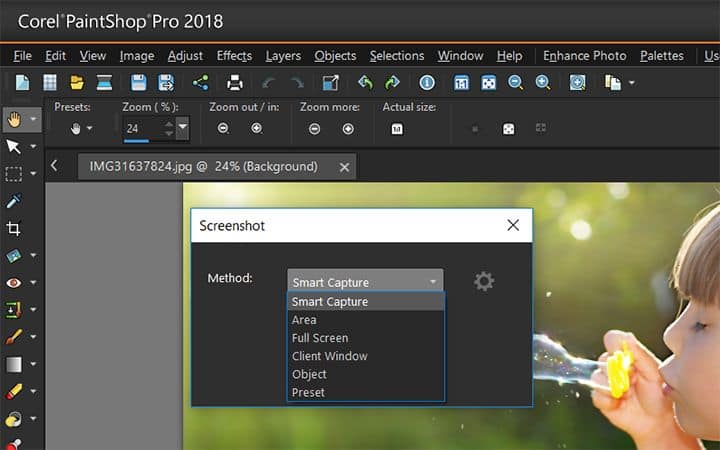 4.
Adjust Settings
If you want to modify other settings, click the Settings button, and navigate the pages to adjust the settings you want. Click Start.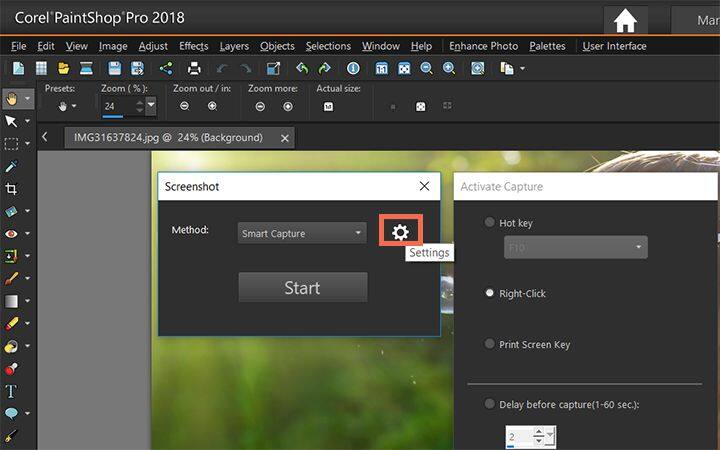 Download a free trial now and start to taking screenshots today
PaintShop Pro's image editing tools allow you to quickly and easily to take screenshots for tutorials, sharing, training, and more.
PaintShop Pro does more than just to take screenshots
Check out some of the other photo editing features in Paintshop Pro, like fix blurry images, sharpen photos, remove photo background, and more! Create high quality photos in a fun and easy to use photo editor and make your photos stand out more than ever.
Download the best solution for taking screenshots that there is
Need to capture your screen, or maybe just a section of your screen? We promise you'll love the easy-to-use screenshot features in PaintShop Pro. Click below to download your free 30-day trial and take screenshots for free before you buy!