Bulk Edit Images
How To Bulk Edit Images
Sometimes, the worst part of photography is the image editing that can stack up from importing large numbers of images. Luckily, with PaintShop Pro, you can skip the image editing tedium and apply bulk edits to multiple images at once. Working with bulk edits allows you to save incredible amounts of time by applying single edits to hundreds or even thousands of images. Keep reading to learn how to bulk edit images on your own.
1.

Install PaintShop Pro

To install PaintShop Pro photo editing software on your PC, download and run the installation file above. Continue following on-screen instructions to complete the setup process.
2.
Select Batch Process
Click File > Batch Process.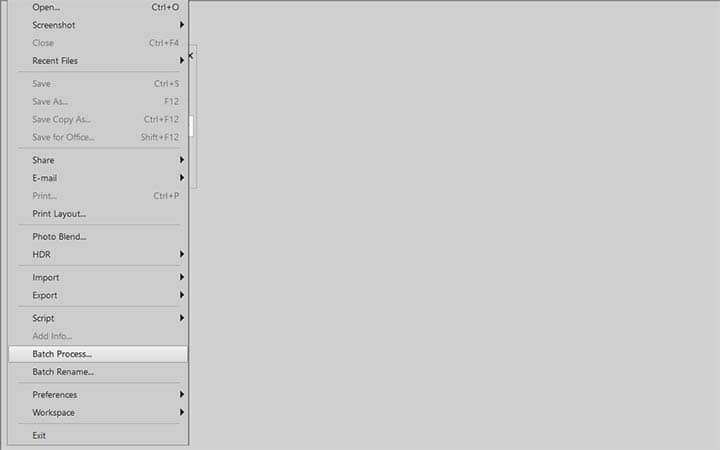 3.
Add Photos
In the Batch Process dialog box, on the Add Photos page, click Add and choose the files that you want to process.
Click Next.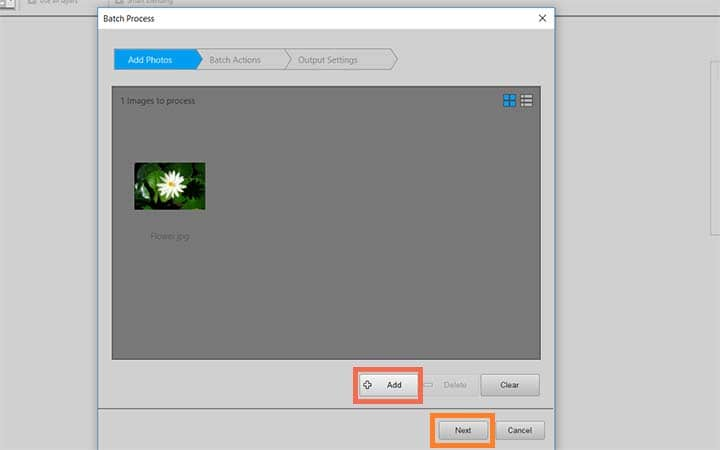 4.
Select actions
On the Batch Actions page, choose any of the following actions:
Add Info
Watermark
Resize
Script — Enable the check boxes for one or more scripts. Enable Silent Mode to avoid displaying dialog boxes associated with scripts (interrupts batch to request user input).
Picture Frame
Smart Photo Fix
Note: To edit the settings for an action (scripts are the only actions that can't be edited from the page), hover over an item you have added to the Add Batch Actions list, and click the Edit this action button that appears.
Click Next.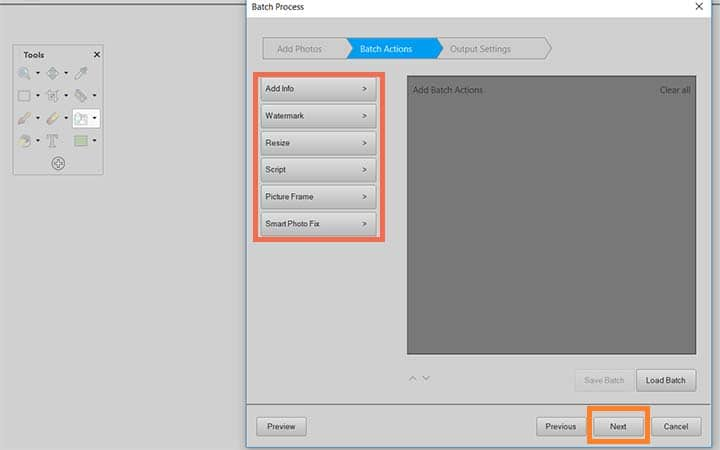 5.
Modify Settings
On the Output Settings page, modify any of the following settings:
Destination folder — Enable New and navigate to a folder location or enable Original to save back to the source folder
Filename — To rename the files, enable Rename, click Modify, and choose an option from the Rename Options list, and click Add. You can rename the file with info such as current date or custom text. Note: If you are renaming files, adding the Sequence option ensures that each file will have a unique name and you won't have naming conflicts.
Naming conflicts — Enable the option that you want to apply in the event that two files have the same name.
File Format — Choose a file format. Click Options if you want to modify the settings for the file format.
Security features — Enable Delete EXIF information to remove all EXIF metadata from the processed files or enable Delete location information to remove any GPS coordinates. To add a Digimarc watermark, enable Embed Watermark.
Click Start to run the batch process.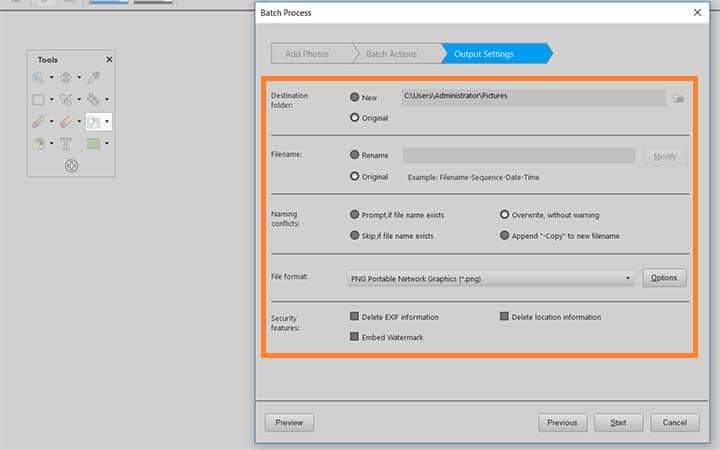 Download a free trial now and start batch processing today
PaintShop Pro's image editing tools allow you to quickly and easily batch process your images to speed up post processing.
PaintShop Pro does more than just image batch processing
Check out some of the other photo editing features in Paintshop Pro, like bulk image resizer, change image color, tone mapping, and more! Create high quality photos in a fun and easy to use photo editor and make your photos stand out more than ever.
Download the best solution for bulk editing photos that there is
If you need to edit a lot of photos but don't want to do each of them individually, then you are in luck. We promise you'll love the easy-to-use batch processing features in PaintShop Pro. Click below to download your free 30-day trial and bulk edit images for free before you buy!