Enlarge an Image
How to Enlarge an Image
Ever found old photos taken on phones or on old cameras that were not high resolution? Or cropped small sections from other images, only to find they were unusable due to poor resolution? These low-resolution images can easily be enlarged while preserving details with artificial intelligence in PaintShop® Pro. To enlarge an image, follow these simple steps below:
1.

Install PaintShop Pro

To install PaintShop Pro photo editing software on your PC, download the free trial above, then run the installation file. Continue following on-screen instructions to complete the setup process.
2.
Select Resize
Open the image that needs to be enlarged - Click Image > Resize. Enter the size you want to enlarge the image to. Click Advanced and AI-Powered Settings.
Select photo-realistic for photos and illustration for drawings, text, graphic designs.
If there is noise in the image, bump up noise reduction on the slider. Lastly, if you have a powerful GPU, select GPU acceleration for quicker processing and click apply.
Note - Depending on how much the image is being enlarged and the processing power of the computer, the process may take a few seconds or a couple of minutes while the artificial intelligence technology adds pixels to the image.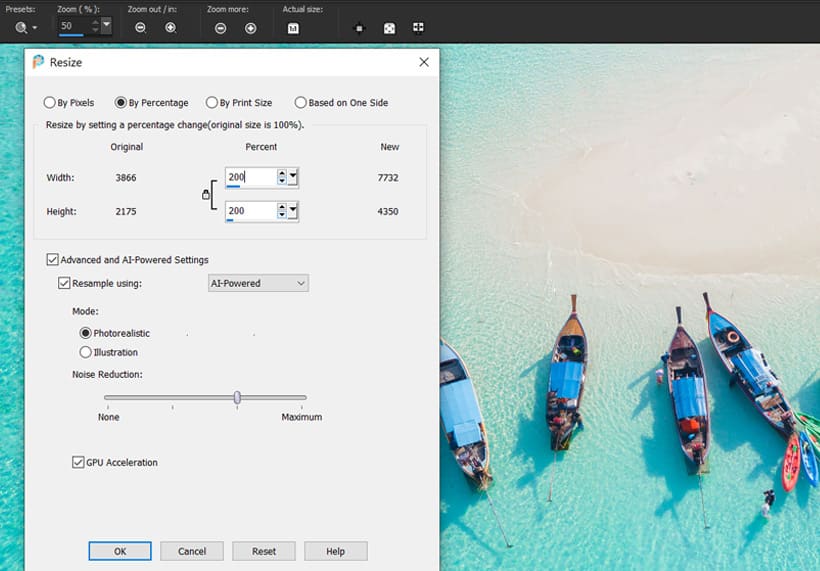 PaintShop Pro is more than just an image enlarger
Create high quality photos in a fun and easy to use photo editor and make your photos stand out more than ever with some of these quick editing techniques. Check out some of the other photo editing features in PaintShop Pro, like add photo filters, edit hue & saturation, take screenshots, and more!
Download the best solution for enlarging photos
Want to enlarge your image? PaintShop Pro's features in make it easy to make your images bigger. Click below to download your free 30-day trial and enlarge photos for free before you buy!